Upcoming Park District Activities
Summer Registration
You can also view all of our Summer Camps by clicking
HERE!
Non-Resident Registration begins
Monday, May 18
_________________________________________________
Announcements
POOL & SPLASH PAD OPENINGS
CENTRAL POOL, 9400 S. KENTON AVE., OPENS THIS SATURDAY, MAY 23!
Hours this weekend will be Saturday, Sunday and Monday, from 12-5pm daily. Located at 9400 S. Kenton Ave.
Dates and hours for Central Pool are:
Tuesday, May 26-Friday, May 29, from 4pm-8pm
Saturday, May 30 and Sunday May 31, from 12pm-5pm.
Monday, June 1-Friday, June 5, from 4pm-5pm
Saturday, June 6 and Sunday, June 7, from 12pm-5pm.
The Centennial Splash Pad, 9400 S. Nashville, is currently open daily and FREE to the public, from 9am-dusk, until June 6 when normal pool rates will apply.
Centennial Aquatic Center's Pool, 9400 S. Nashville, will open on Saturday, June 6 and Sunday, June 7, from 12pm-5pm.
Beginning Monday, June 8, both pools will resume full hours.
Memorial Splash Pad, 102nd & Major, will open TODAY and be FREE to the public daily, from 9am-dusk.
Marketing & PR Needs Assessment Survey
We need your input! Please complete our 2014-2015 Marketing & Public Relations Needs Assessment survey. The results will be used as a guide to help the Communications Department set goals and objectives, and to update the current Community Relations, Marketing & Public Relations Plan. Your opinion is very valuable and we appreciate it! (This survey will be available until Monday, May 25.)
This survey can be filled out anonymously (skip the first three questions) OR if you would like to be entered into a raffle (one entry per household)
for a chance to win a (one) Stony Creek gift card good for a Twosome of Golf & Cart
, please fill out your name, address, and phone number. The winner will be picked the first week of June!
MARKETING & PUBLIC RELATIONS SURVEY
__________________________________________________________________
MARK YOUR CALENDAR FOR THESE
FUN UPCOMING SPECIAL EVENTS
Art, Bottles & Corks (Adult painting parties)
Stony Creek Restaurant & Banquets
(5850 W. 103rd St.)
Friday, 6/5

7:00 - 9:30pm
$40 per person, per class.

It's easy as ABC! Paint, eat and drink the night way. Our paintings are simple and fun; absolutely no exp. required. We supply the 16 x 20 canvas, paints, brushes and easels, all you need to bring is a friend. Come early and take advantage of the special party room menu, then join in the fun! One complimentary glass of wine or domestic beer is included.Check out the paintings at www.artwithlaurie.weebly.com
Call the Oak View Center at 708-857-2200 and reserve your spot!
_________________________________________________________________
June Theatre Production
The long awaited announcement is finally here!
The Oak Lawn Park District Theatre Program Presents their June Production of...
__________________________________________________________________
Oak Lawn's Got Talent (OLGT)
Oak Lawn...we know you have talent! This event is the perfect place to show your talent off. Click
HERE
for the flyer.
______________________________________________________________
Famazing Race- Family Fun Challenge
Sponsored by:
Register NOW! Each team will compete in a series of exciting challenges and race to the finish to win some great prizes! Does your family have what it takes?
Click
HERE
to find a detailed flyer.
_________________________________________________________________
TRIPS
Billy Elliot Lunch/Dinner (Age: 13 & up)
Join us as we head to the beautiful Drury Lane Oakbrook to enjoy BILLY ELLIOT The Musical! Billy Elliot, a young boy who trades in his boxing gloves for dancing shoes. In a small town in the English countryside, Billy discovers a passion for dance that inspires his family and his whole community, and changes his life forever. This musical phenomenon is set to an explosive hit score by Elton John. Do not miss this joyous celebration of one boy's journey against the odds to make his dream come true! Be advised strong language, violence and some sensitive subject matter that is true to the story and plot. Lunch will be a choice of Traditional Roast Turkey with all the trimmings, Tilapia, Vegetarian Option. Salad, vegetables, potato, fresh baked bread, dessert, choice of beverage.
Departure: Community Pavilion
Code Day Dates Time Res/NR
422018-1 W 6/3 10:30A-5:00P $75/$85
Transworld Jewelry/Fashion/ Accessories Show (Age: 16 & up)
This will be our first time heading to the Transworld's Jewelry, Fashion & Accessories Show held at the Donald E. Stevens Convention Center in Rosemont. As I have been told this is a one stop shopping day! A fantastic selections of magnificent fine jewelry, handcrafted accessories all at unbeatable prices. Handbags, beauty care items, home decor, gold, silver, diamonds and gems of all colors. Lunch will be on your own. Wear your walking shoes.PDNA(ct)
Departure: Community Pavilion
Code Day Dates Time
422019-2 Th 7/16 *9:00A-3:00P
$25/$35* Note: New Return Time
For more information or to register for any trips, please contact 708-857-2200.
__________________________________________________________________
ADULT LEAGUES
BOCCE BALL FLYER BEAN BAGS FLYER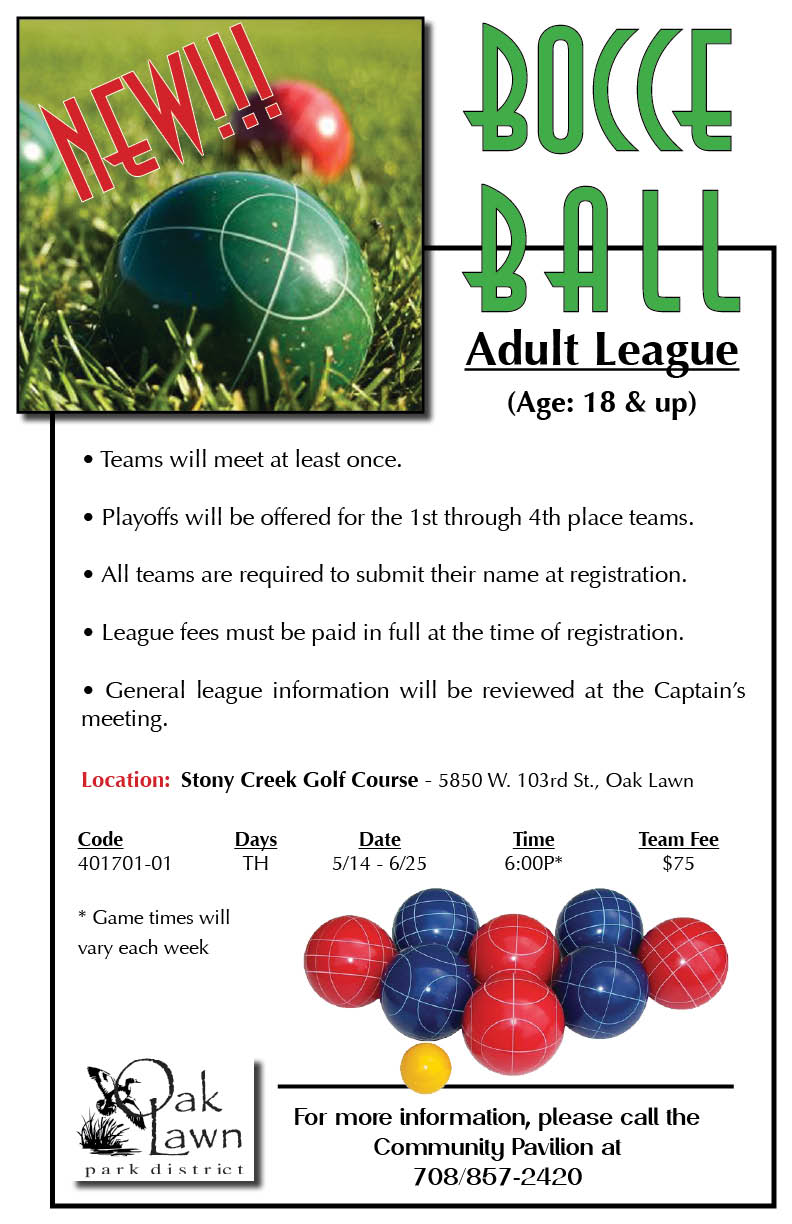 _______________________________________________________
YOUTH PROGRAMS
Water Safety Water Fun (Age: 12 & up)
Prerequisite and goal: Must be 12 at the start of the class. Participants must have comfortably and successfully passed Youth Advanced Level 5. Participant will continue to refine all strokes so participant will swim them with ease, efficiency, power and smoothness over greater distances. Participants will learn: personal water safety, group water safety, basic skills for teaching and assisting with water safety classes, pre-lifeguard readiness, and fitness swimmer skills. Participants will be trained in CPR and 1st and may receive certification if test is passed
Location: Central Pool
Code Days Date Time Res/NR
103038-01 Tu,Th 6/16-7/23 5:30-6:30P $109/$129
___________________________________________________________________
TOT PROGRAM
___________________________________________________________________
SAVE THE DATE NOW FOR THE
ANNUAL 4TH OF JULY EVENT ON
SATURDAY, JULY 4TH.
---
Congratulations to Commissioner and Board Secretary, Donald Andersen, on his appointment as the Chairman of the Illinois Association of Park Districts (IAPD) Board of Trustees.
Don has been a Commissioner of the Oak Lawn Park District since 1977.
The staff at the Oak Lawn Park District appreciates all the work Don does for the agency and for the parks and recreation field.
DID YOU KNOW...
Facilities & Parks
...the Park District currently operates:
2 swimming pools (Central Pool & Centennial Aquatic Center)
1 splash pad at Centennial Aquatic Center
1 indoor, year-round ice arena
1 community pavilion with weight room/exercise equipment, 4 indoor basketball courts, 4 volleyball courts, and has an 1/8 of a mile indoor walking/running track. The Pavilion is currently under construction for an expansion project.
1 Racquet, Fitness & Gymnastics Center equipped with 5 courts for tennis, 4 racquet/wallyball courts, 2 party rooms, baseball hitting & pitching lessons, fitness center, and a gymnastics center
1 golf course, 18-hole, adjacent to a driving range and miniature golf course and clubhouse which seats 100, They also have a golf simulator.
1 recreation center (Oak View Center)
...There is a combination of 32 parks and facilities owned and operated by the Oak Lawn Park District which cover around 300 acres.
...We maintain 20 parks, 14 tot lots, 19 baseball fields, 6 picnic areas, 6 sand volleyball courts, 7 soccer fields, 16 outdoor basketball courts, 1 bike path, and 1 museum.
...The 3 enterprise funds are the Ice Arena, Racquet, Fitness & Gymnastic Center, and Stony Creek Golf Course. The Pavilion is part of the recreation fund. Other Park District buildings include an Administrative Center; the Oak View Recreation Center, which houses staff and recreation programs; Menard Activity Center for programs and rentals; Dream Center, the home to many of our special recreation programs; Little White School House located in Lake Shore Park used for recreation programs; and the Maintenance business office and garage.
...Our 3 natural areas are: Chicago Ridge Prairie located at 105th and Menard, Wolfe Wildlife Refuge located at 109th & Laramie and Lewandowski Arboretum located at 87th St. and 49th Court. Wolfe Wildlife features a walking/jogging/bicycle paths, wetlands and nature studies. Chicago Ridge Prairie is a limestone prairie and features a nature walk, educational gazebo, and is home to the little white lady slipper orchid which is only found in 2 other spots in Illinois.
...The Cultural Arts Department of the Park District has a theatre program which offer 6 plays each year.
...Largest park is Wolfe Wildlife at 45 acres.
...The only facility where alcohol is served is the golf course.
...Stony Creek has their own website at www.golfstonycreek.com.
...The surface of the Ice Arena is larger than that of the United Center where the Chicago Blackhawks play.
SERVICES
...The Park District offers a myriad of recreational programs and services to the 55,000 + residents of Oak Lawn, from tiny tots to senior citizens.
...Four times a year the Park District delivers a program guide describing its programs and special events to all the residents in Oak Lawn. Program Guides are no longer delivered through the United States Postal Office. Program Guides will be hung on the doorknobs of each Oak Lawn residents home.
...The Park District manages a Special Recreation Cooperative Agreement offering recreational programs and services to individuals with disabilities in 8 municipalities
…The Healthy Minds Healthy Bodies program is designed for veterans with disabilities and includes a year-long membership to the Oak Lawn Pavilion for the veteran and a guest of their choice. It also includes personal training sessions and monthly socials open to the veterans and their families.
…We partner with the Village of Oak Lawn to provide 7 concerts and 6 movies on the Village Green each summer.
EMPLOYMENT
...The Park District employs a staff of 54 full time and 312 part time employees. There are approximately 238 seasonal employees, which fluctuates with the season.
...We employ approximately 200 teens throughout the year, particularly during the summer months.
GENERAL
...The Oak Lawn Park District is a municipal corporation and is not part of the Village. We are our own taxing body.
...The Oak Lawn Park District operates under the state tax cap.
...We have received over $4,151,000 dollars of grant money in the past 3 years.
...The Oak Lawn Park District's operating budget for 2013/14 is $10.0 million. Capital projects budget and debt service is $10 million. The fiscal year of the District runs from May 1st to April 30th.
…The Park District has 13 different Facebook pages that you can follow. The pages include General, Special Recreation, Gymnastics, Ice Arena, Nature Program, Racquet, Fitness & Gymnastics Center, Stony Creek Golf and Banquet Complex, Community Pavilion, Gotta Get Gardening, Aquatics, Bailey's Crossing, and Preschool Playtime.
Facility Phone numbers at a glance:
Administrative Building -708-857-2225,
Community Pavilion - 708-857-2420,
Ice Arena - 708-857-5173
Maintenance Building - 708-857-2201,
Oak View Center - 708-857-2200,
Racquet, Fitness & Gymnastic Center - 708-857-2215,
Stony Creek Golf Course, Restaurant & Banquets - 708-857-2433.
Updated 9/3